Edge gilding is the process of applying metallic foil to the outer edges of your book. Typically gilt service is offered in gold or silver, and print any graphic patterns on the edge of the book on your choice.
This is a great way to conjure up luxury, elegance, and overall a special aura surrounding your project.
Traditionally gilt edging was done using gold or silver leaf and was reserved for important books to reflect their valuable nature. These days gold or silver leaf has been replaced by hot stamping foils which are available in a myriad of finishes and colors – metallic golds and silvers, matt foils, and even foils with fluorescent and holographic effects, with the development of inkjet printing technology, book edge graphic patterns printing also can be applied, so designers can create impactful traditional or contemporary styling for their products.
A gilt or printed edge can only be applied to perfect binding and case-bound books. and the metallic foil or graphic patterns should have at least 1cm of thickness on the paper edge of your book.
OK, let us introduce the whole process and what machines we need.
Metallic Foil Book Edge Gilding
Gilt edging or edge gilding is one of several types of book edge finishing techniques used to decorate the edges of a book block or card deck.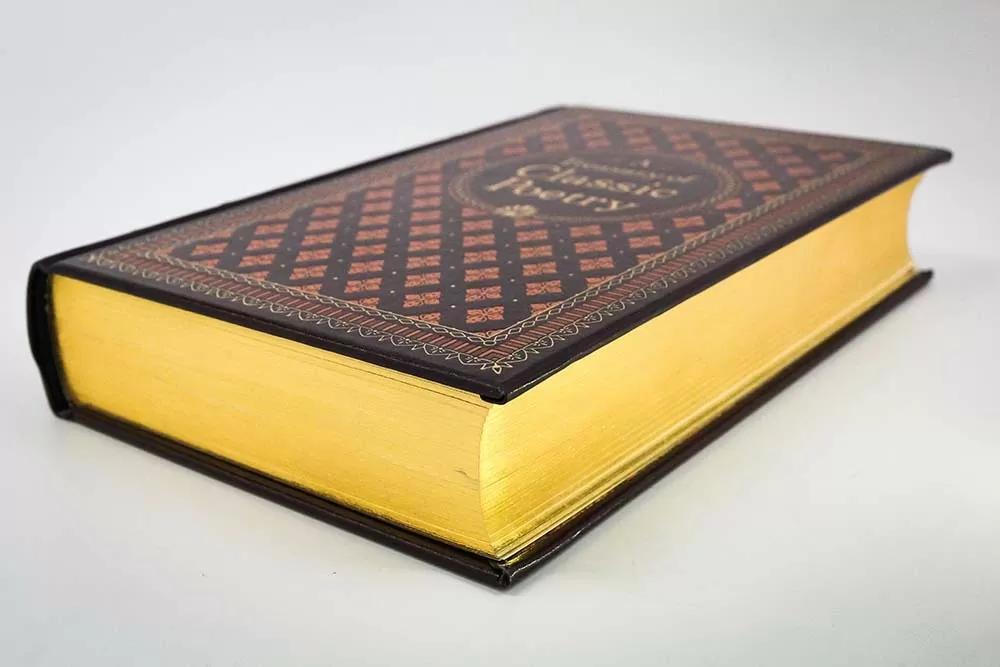 Gilt edging is used most often on luxury books including special and limited edition books and bibles and other religious publications, however, it is also popular on other printed items; such as children's board books, journals, stationery items, and card decks, to add an element of luxury, distinction or just plain fun!
As the video showed, the whole process of the metallic foil book edge gilding needs three steps:
1. Book Block Bundling Machine
Book Block Bundling Machine is dedicated to preparing for beveling the edge of book blocks, pressing and bundling the book blocks by hydraulic power, the pressure can be adjusted from 1T to 3T according to the requirements, and the tight book block bundle is easy to polish the edge, then for gilt-edge hot stamping.
2.Beveling Machine
Beveling Machine is the auxiliary equipment for hot stamping, grinding three sides of books to be flush with the ideal effect, the machine adopts manual lifting/lowering and automatic grinding with easy operation.
3. Gilt Edged Hot Stamping Machine
Gilt Edged Hot Stamping Machine is used for notebooks, hardcover books, bible, board books, cards, and other products gilt-edged hot stamping way, automatically runs, is easy to change jobs, high efficient and stable, and is widely used in book gilt-edged.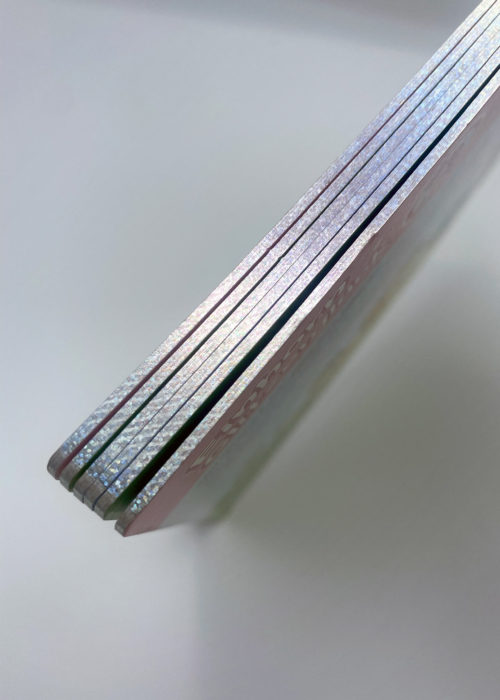 Book Edge Graphic Patterns Print
Of course, book edge graphic patterns printing is a great way to catch the eye of potential customers and can accommodate any color and any pattern of design choice to make it pop.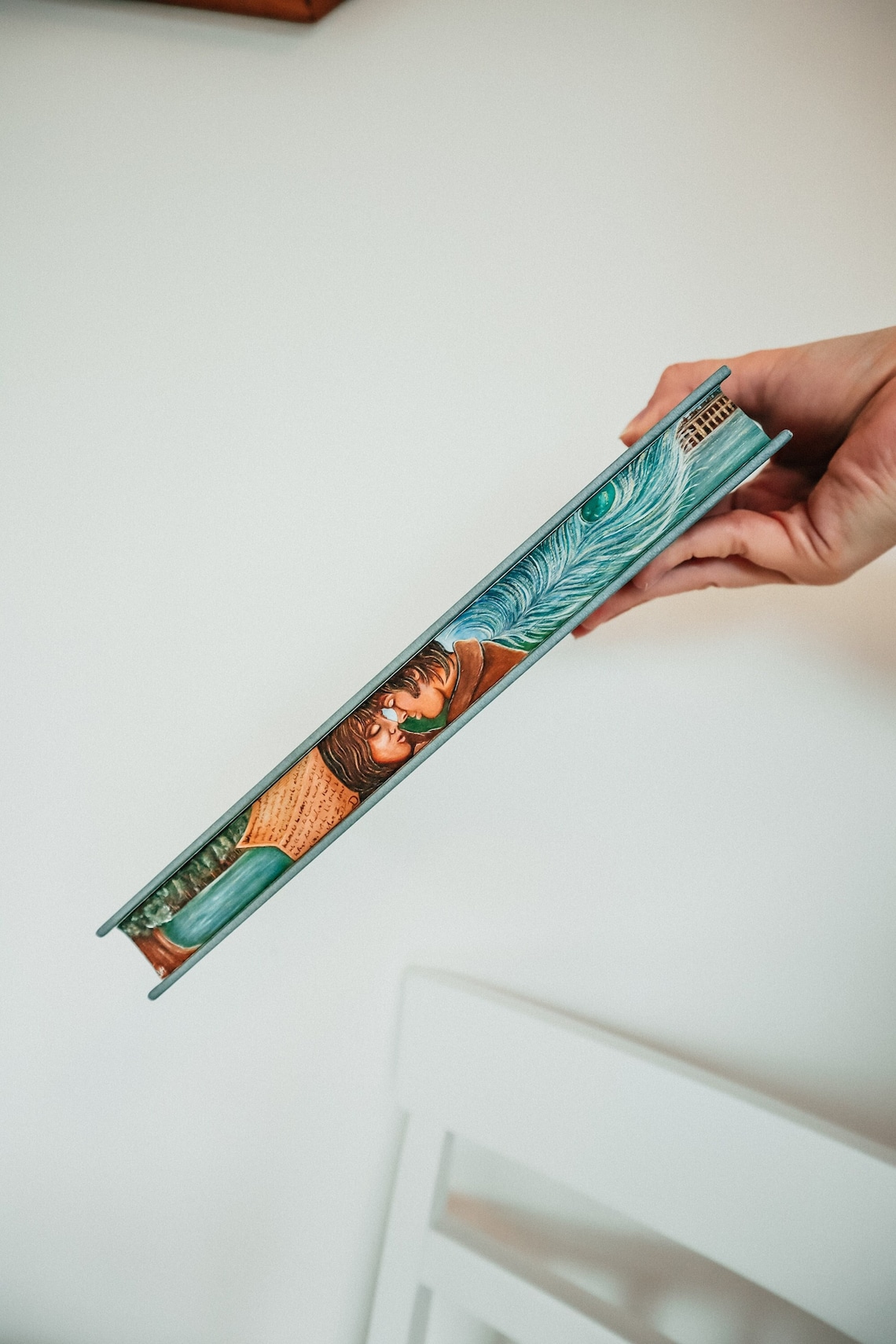 Book Edge Digital Print Machine
Book Edge Digital Printing Machine is using piezoelectric inkjet digital printing way to process the file, RIP and color management, easy GUI layout, and precision position, with 720×1200 DPI water-based ink printing, any graphic patterns can be printed on the edge of the hardcover book, notebook, sticky notes blocks, etc., with the speed of 1000 books (3-sided printing) per hour.
Large Format Book Edge Digital Printing Machine is using 8 sets of micro piezoelectric 1440 inkjet nozzle digital printing way to process the file, which can be print any graphic patterns with double 4 colors or 8 colors ink, on the edge of the hardcover book, notebook, sticky notes blocks, etc., with 2880dpi×1440dpi high resolution, the A1 format (600×1420mm) printing only need 8 mins, using electromagnetic levitation UV flatbed print, the book height can be up to 35cm, wide range of applications, high resolution and large format, good choice for book edge printing.
Book edge could be decorated by many means, which adds luxury and class to any printed product. It transforms an ordinary book into a stand-out book, differentiating it in terms of design and quality.